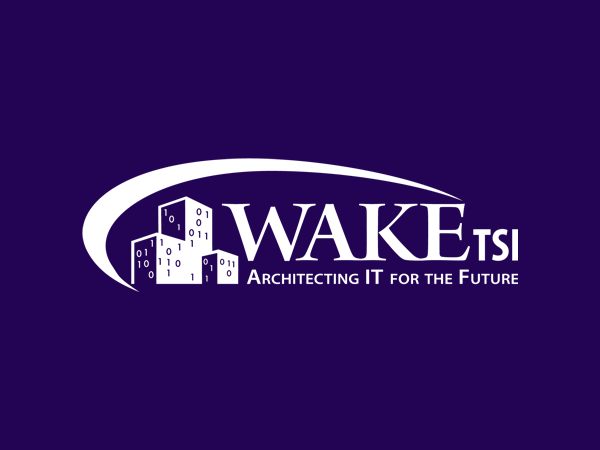 Press Release for December 2010
WAKE TSI Redefines America's Business Technology Infrastructure
Architecture and engineering technology leader celebrates saving over one hundred American institutions millions of dollars
WEST CHESTER, PA – December 2010 – Until now, most IT departments spent seventy percent of their budget on 'lights on' activities and healthcare organizations spent seventy-five percent of theirs on the same. So, what happens after dark? And, less than ten percent of all businesses have a disaster recovery plan, of those without, eighty five percent will fail after fire, disaster or major virus. Today, WAKE TSI announced that they have successfully altered the way one hundred healthcare, government and corporate institutions do business—a legacy that will impact the integrity of data center management and IT departments nationwide.
"In the last six years we have changed the game of how companies use digital data and information to drive their bottom line vis-à-vis the data center and IT department," says WAKE TSI's CEO and co-founder, Chris Witt. "We make it our top priority to understand our clients thoroughly and therefore anticipate their technology usage and habits. That innate knowledge coupled with our profound ability to foresee obstacles and challenges creates a valuable business solution and positions us as our clients trusted advisors."
In 2004, long-time business associates and friends, Chris Witt and Gene Kern, conceived a business plan which would hold them accountable for their clients' bottom line and for the privacy-wellness of millions of American's across this country—from their job security, to personal privacy. Now, six years later, WAKE TSI, a leading full-service IT architecture, engineering and strategic services firm is on track to fulfill their destiny as market innovator, maintain their 2009 revenue increase, support their long-term relationships with local and national healthcare, government and corporate institutions, and continue the development of high-yielding, low-maintenance IT security and data center consulting projects.
"I would not have trusted such forward-thinking and aggressive projects to anyone else. They ensured that all our IT interests were addressed and protected."– Rick Copple, Chief Technology Officer, Community Health Networks.
WAKE TSI has established themselves as a major intellectual and technological resource and data center innovator in the healthcare, government and corporate sectors. WAKE TSI's strategic evolution has allowed the company to launch unique market strategies which apply data surveillance and industry principles to a comprehensive suite of strategic solutions. Their staff average 22 years of field experience. Their consultants are experienced former CIOs, CTOs, and IT Directors who get the big picture—and the close-up—of facility infrastructure and information technology. They have even been called "…invaluable part of our corporate infrastructure…" by the IT Director of a major Pennsylvania medical center.
Veteran speakers and published authors, Witt and Kern can discuss the following and more:
What to Protect Against: Disaster Avoidance Versus Disaster Recovery
How to Understand Your Company's IT Intensity
Interim IT Management Staffing
Why to Get Out of the Data Center Business
How to Know if You Are Ready for the Evolution of Your Data Center
How Cloud Computing Impacts a HIPPA Compliant World
Why 'Clouds' Blur a CIO's Judgment
Successful Data Center Infrastructure: Built on Fact not Emotion
Streamlining Virtual IT Dept's Resulting from Takeovers
Furthermore, WAKE TSI has found a new home on the Web. Their new site contains a blog featuring regular contributions from WAKE team members including co-founder, Gene Kern, who will offer commentary on news, current events and trends impacting the IT and data center space. The site will also contain a searchable database of whitepapers and editorial bylines. Guests will also be able to view a gallery of past and current project photos and connect directly to WAKE TSI's various social media profiles.
For more information on WAKE TSI, a list of services, references or a RFP please contact info@WAKETSI.com. Media may contact Kristi Hughes at 215-816-2954 or email kristi@manavistapr.com.
ABOUT WAKE TSI
WAKE Technology Services, Inc. (WAKE TSI) was formed in 2004 to deliver innovative, cost-effective information technology services to client organizations. WAKE TSI serves many of the nation's best hospitals, health networks, payers, and university teaching and research institutions. WAKE TSI also serves large organizations in commercial, federal and state business sectors. WAKE TSI specializes in IT architecture and engineering services and strategic services that help drive operational efficiencies directly impacting the bottom line.
###